Another 30+ hours labor of love is ready for showing the world.
MostlyReal are our top product for children photography.  They are incredibly difficult but also fun to pull off because creativity can run wild, and while for our wedding and regular portrait work we use photoshop sparingly in a "you won't even know it was there" kind of way… MostlyReal portraits allow me to really push the envelope and experiment in ways that are quite frankly the equivalent of leaving a child in a candy store.
With no further ado….  The Fantastic Four:
Yes, that is the same child in every one of the four characters 🙂
This was by far the most ambitious MostlyReal portrait I've done as it involved four "characters" rather than the more common one.  That being said, it was a blast to make from start to finish.
We shot on location under a covered area while rain was pouring all around us.  Francesca was fantastic.  I set duct tape on the floor where I needed her to stand for her various poses and she nailed the foot placement, hammed it up like there's no tomorrow and was an absolute BLAST to photograph!  I was very, very impressed!
Here are a couple of out-takes from the pre-production shoot:
1.  I guess she thought "sexy model pose" meant "show your tush!" … ha ha ha!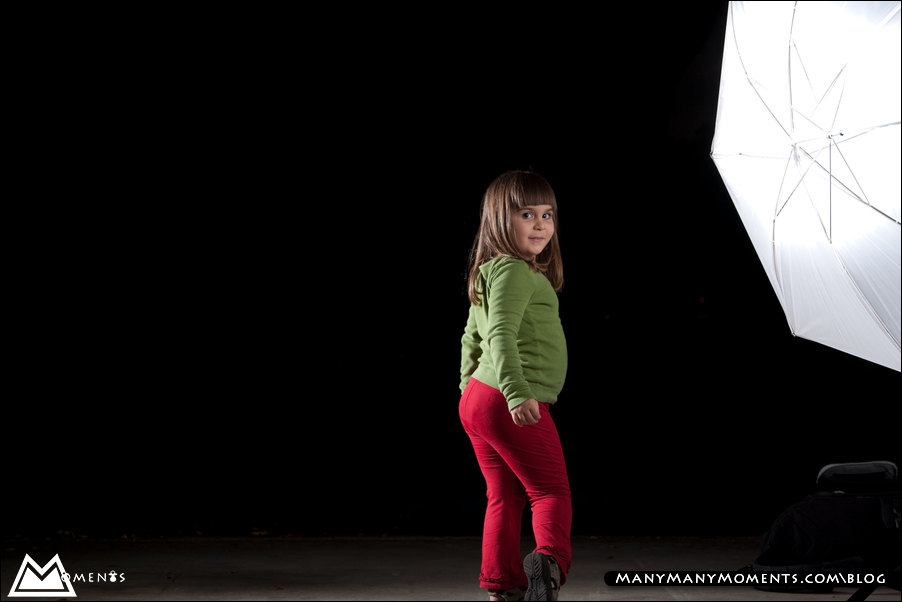 feisty firedude she nailed on the first try… she can certainly do feisty all on her own: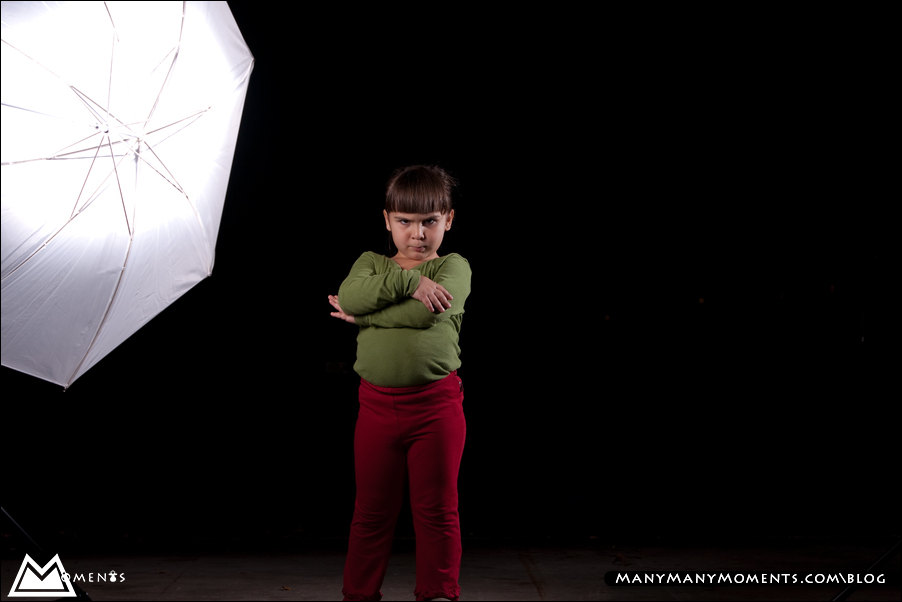 Finally, her initial interpretation of "the Thing."  I loved her expression and all, but the arm placement wouldn't work with my planned outcome, so I had to go with a less inspired, but more close to plan shot.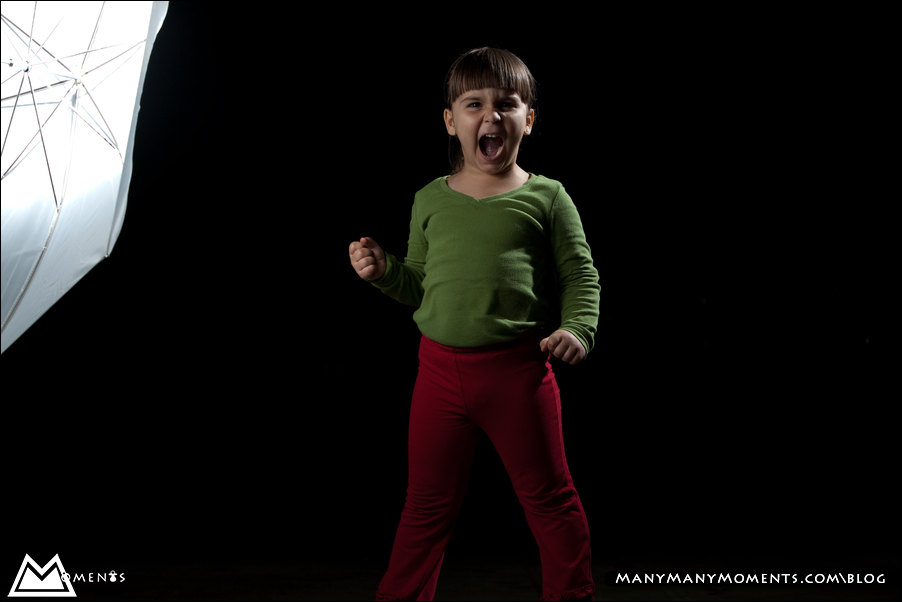 For those curious about how the shots were taken… well you can obviously see the shoot-through umbrella.  Opposite the shoot-through I had an unmodified speedlight to act as a kicker/hair light.  The shots were taken with a Canon 70-200 2.8 IS on a Canon 5D mounted on a tripod.  Lights were triggered remotely with Cybersyncs and everything (camera/flashes) were set in Manual.
Once pre-production was complete I took the images back, culled and selected the best shots for the composite.  The Thing and Invisible girl were given their own Smartobject setup… The thing was a LOT of work.  It started out very cartoonish, and then layer upon layer upon layer he got a bit more rock-looking…
Here is what the image looked like once all the masking/cutting of the characters was complete… and I started working on the special effects.  Notice the Things' legs are still normal-sized …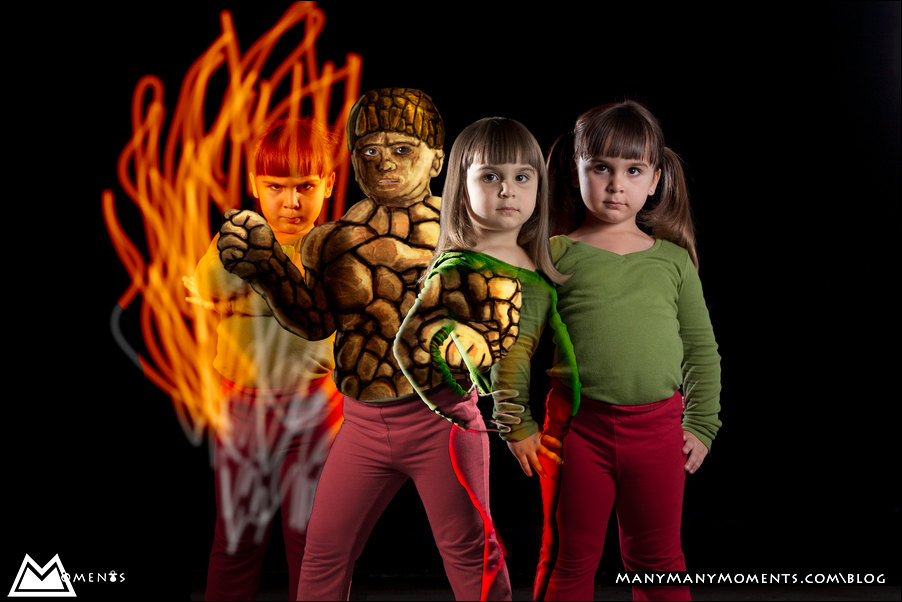 Below you can see what the image looked like half-way through post-production.  Compared to the end result noticeable differences should be:
The thing is still very cartoonish and is only minorly affected by the fire next to him.  The fire is igniting mid-body without the flame starter at the bottom.  The Fire dude and Ms. Fantastic (far right) still have their suits very bright, the suits don't have decorations.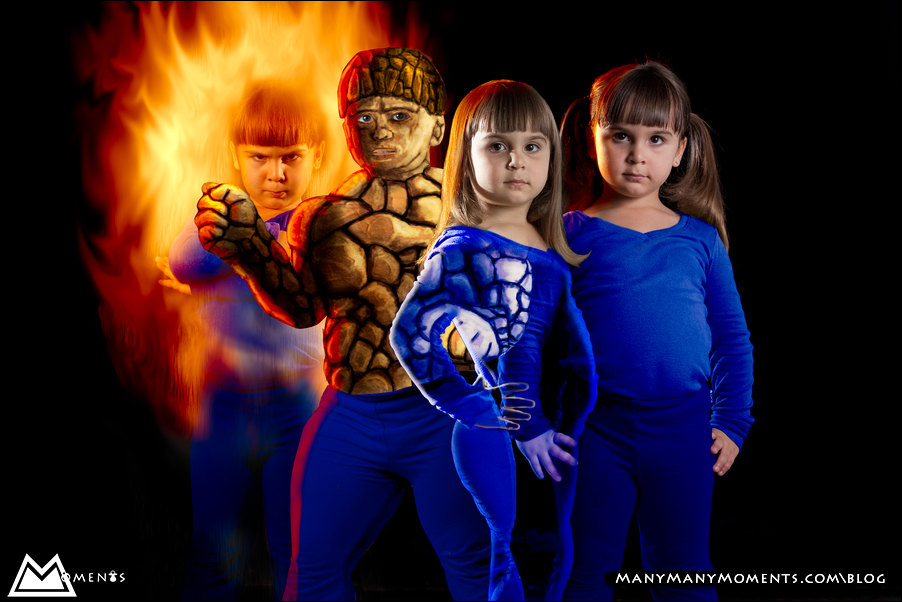 Once again, the final result (for those who may want to compare it to the shot above)
If you're interested in having a Mostly Real portrai done for a special child in your life, please contact us with your idea so that we may brainstorm it together and see what needs to be done to make your vision a reality.
Special thanks to Nadia for helping with adjusting the lights and directing Francesca, and to Lisette for hair styling.