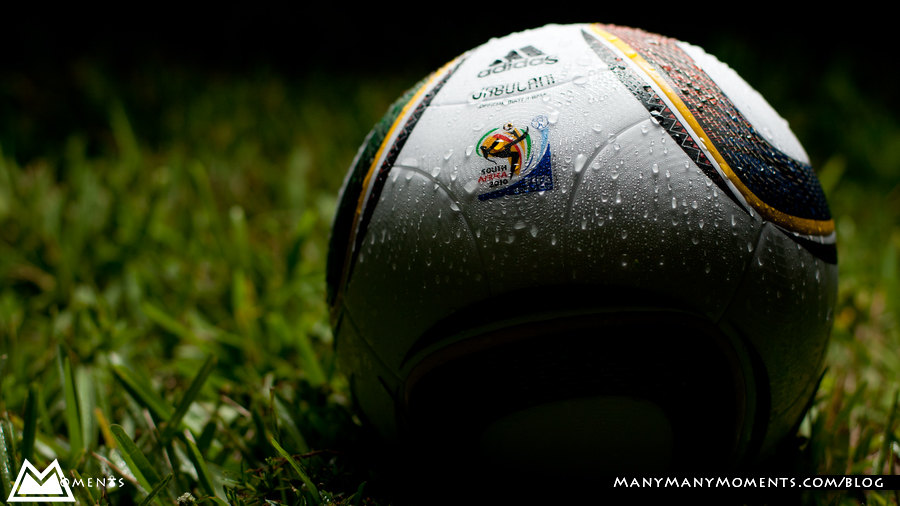 For many of you reading this, the World Cup is somewhat of a nuisance that rears it's head every four years and requires you to at least pretend that you have a clue that something is going on, related to football (you know, the one played with your feet, as opposed to that other one where you carry the ball in your hands  😉 ) somewhere half around the world. For those I offer these three tidbits that you can use at the watercooler and get by for the next few days "Vuvuzelas are very annoying, don't you think?" … "Wow… I don't think France has a chance to pass the first round!" … "Who would have thought Spain would have lost to Switzerland!?!?"
[below: my three little monsters]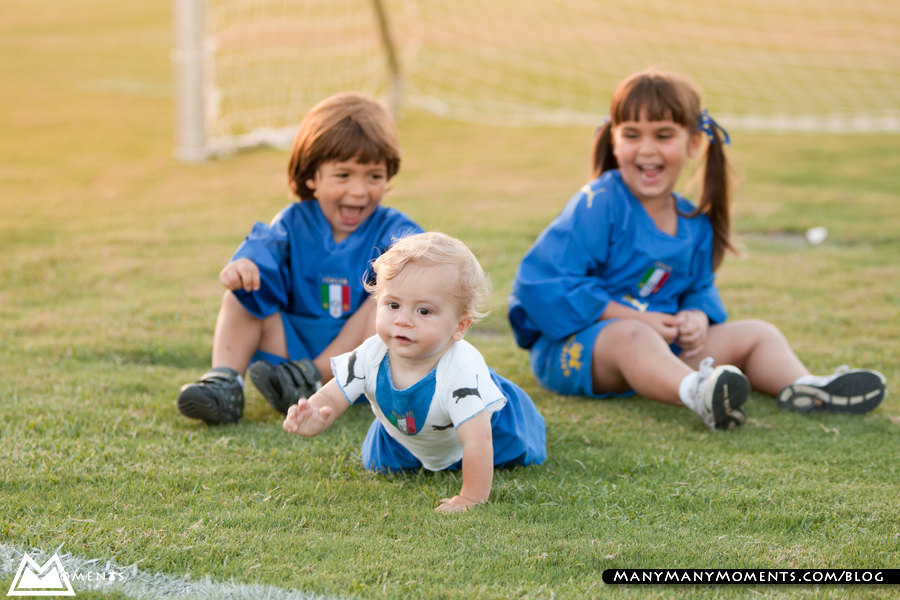 Here are two images that are VERY special to me: The first one is my oldest, taken in 2006 (when Italy won the World Cup, Yay!) … she was almost a year old at the time: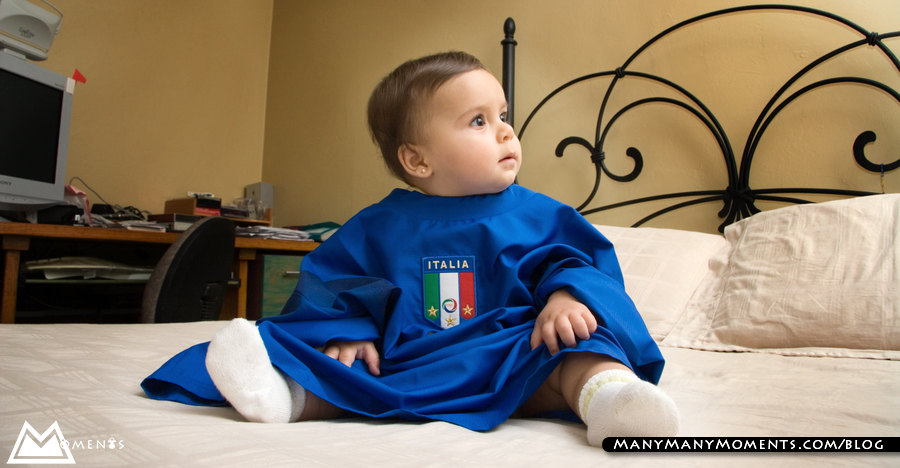 And here she is, wearing the same shirt, four years later, at the start of another World Cup adventure (yes, they DO grow up too fast):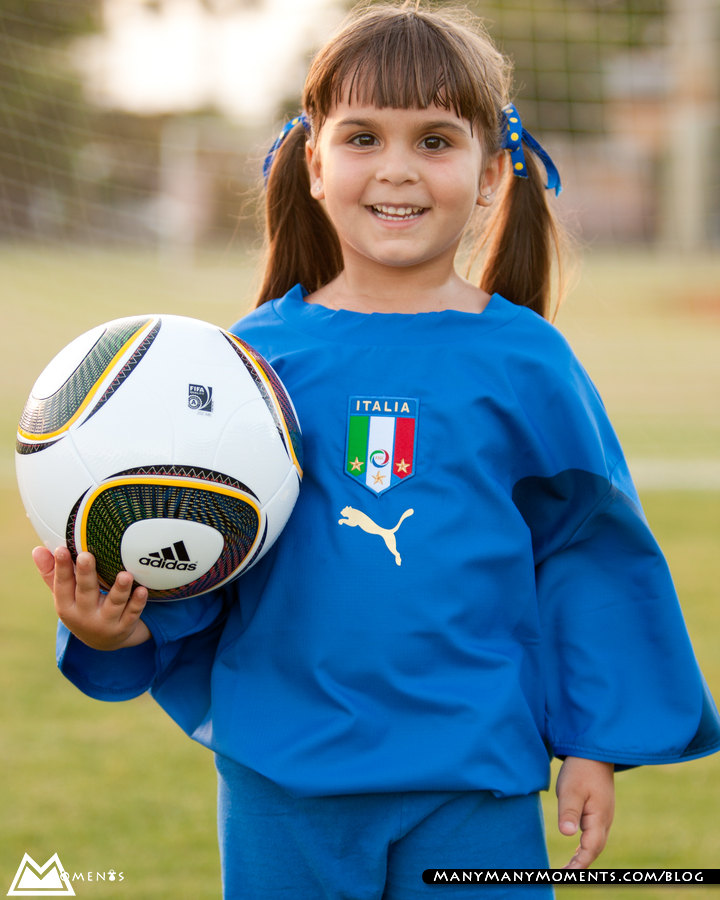 I have to admit that I get a lump in my throat at the thought that the NEXT time she'll be wearing the shirt during the 2014 World Cup in Brazil… she'll be nearly 9 years old.
If you continue reading I'll be sharing some fairly personal moments that I recall from past World Cups. This may be interesting or boring, but either way, it will probably illustrate how the event has in a way been a metronome to my life. I will pepper in some images from this year and 4 years ago, images I'll undoubtedly treasure forever, no matter how well Italy does this time around (All the way baby!!!! – Uhm… probably not, but hey we can always hope). [below: Luca … he wasn't born yet the last time we played for the Cup]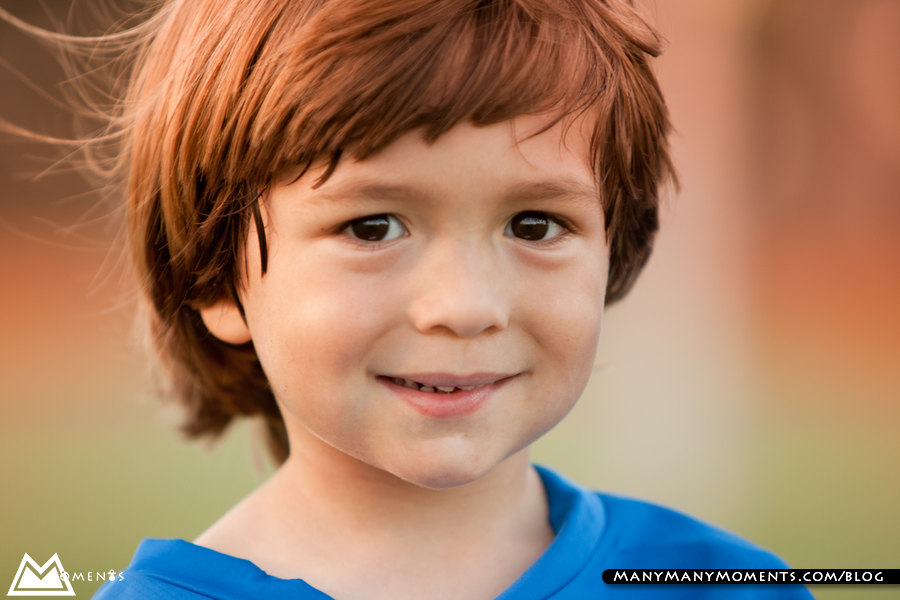 The first World Cup I remember was Spain '82. I was 10 years old at the time and '82 was NOT a good year. I had recently lost my paternal grandmother whom I loved more than words can say (she taught me to draw, to shade images, perspective… if you like my photography, a lot of it has to do with her) and we had moved from Sicily to Central Italy, to a small town where, as the World Cup got under way I had exactly ONE friend.  I didn't even have an Italy flag to wave in the event that Italy did well… that's how bad things were. Then a kind neighbor took me to a fabric store, bought three pieces of cotton fabric, green, white, and red … and sewed a flag for me.  It couldn't fly … it was too heavy for that, but it was MY FLAG. And for the record… at this point as far as flying is concerned… neither could Italy. LOL. [below: Marco … one year old, waring the shirt I decorated for his sister 4 years ago and practicing with the jabulani]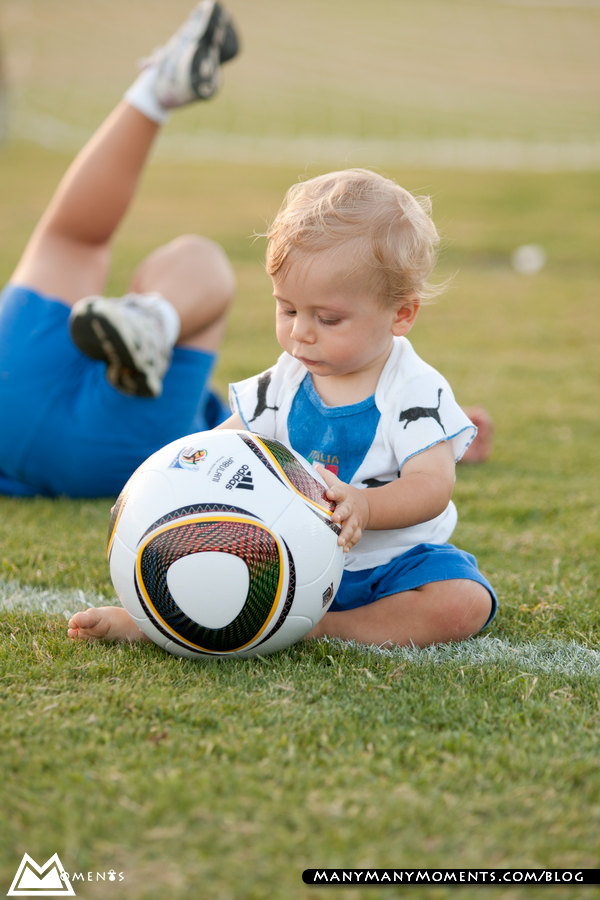 But everything was about to change. Real Fast.
I remember going to the Bars (you would call them Cafes) to watch the games. Walking from my home to the bars was an eerie experience. I was still getting lost (in a ridiculously small town mind you) and as the games got under way the streets were deserted as everyone gathered around their TVs. On at least one occasion I was late, and running to the bar when I thought I heard and earthquake. Italy had scored and what had been a completely silent town erupted in cheers for a minute… and then back to silence. [below: wifey and little monsters]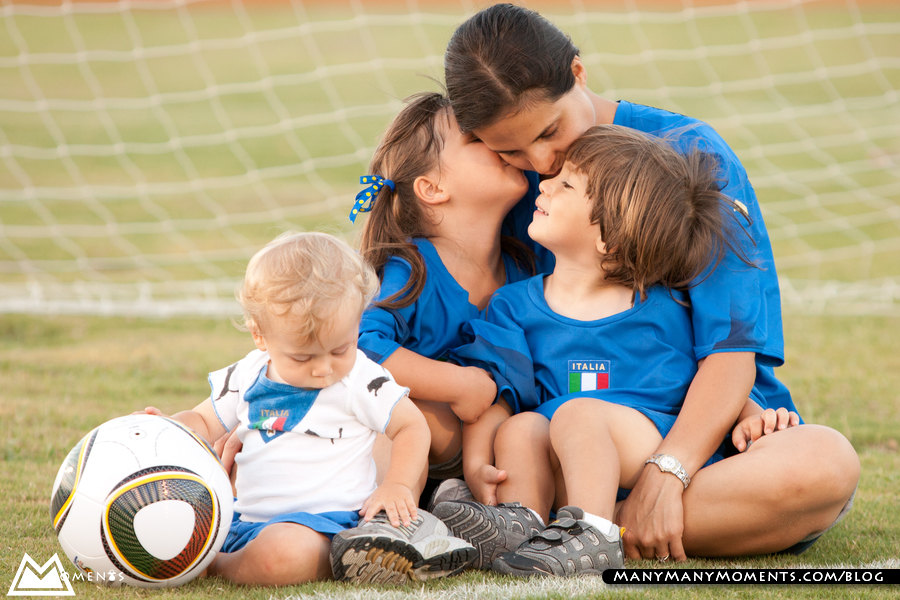 Through some incredible chance event Italy was one of two teams "fished back out" of the first round and allowed to continue on. There was no hope.
And then it happened.
Out of nowhere, the team started getting better, and I started making friends at the Bars. By the time it was all said and done, Italy had somehow defeated what may have been Brazil's best team of all time in an epic match that will live forever in the memory of those who were priviledged to watch it… and against all odds we beat Germany in the final, conquering the Third cup of our team's history. And by the time the last flag stopped waving I had made more friends than I'll ever be able to handle.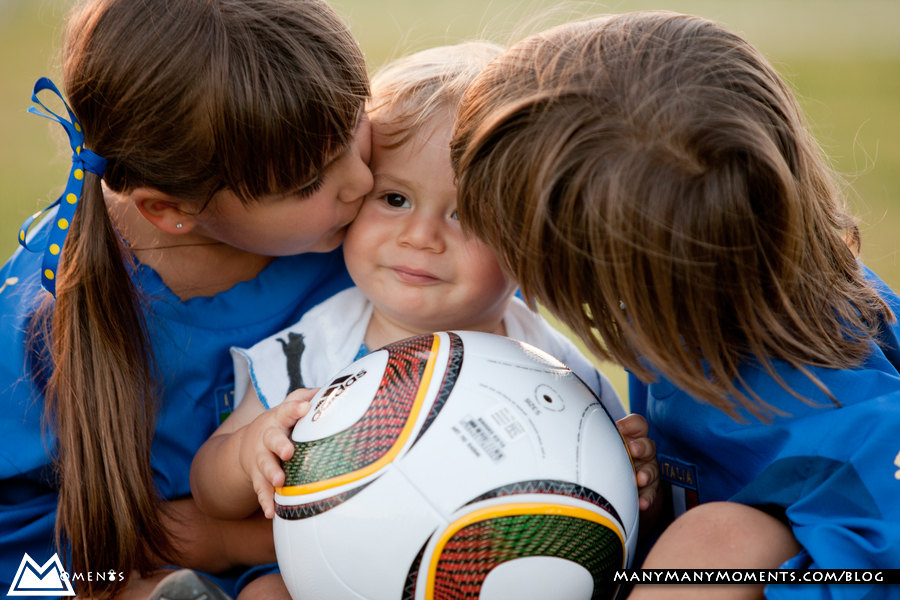 The next World Cup, Mexico '86 was a disaster … I don't even want to go over how poorly Italy did… and frankly that wasn't a great time in my life either… I was 14, a clumsy teenager without a clue about anything, chasing a girl I was nuts about but having absolutely no idea how to get her attention… my team and I both got a zero. 🙂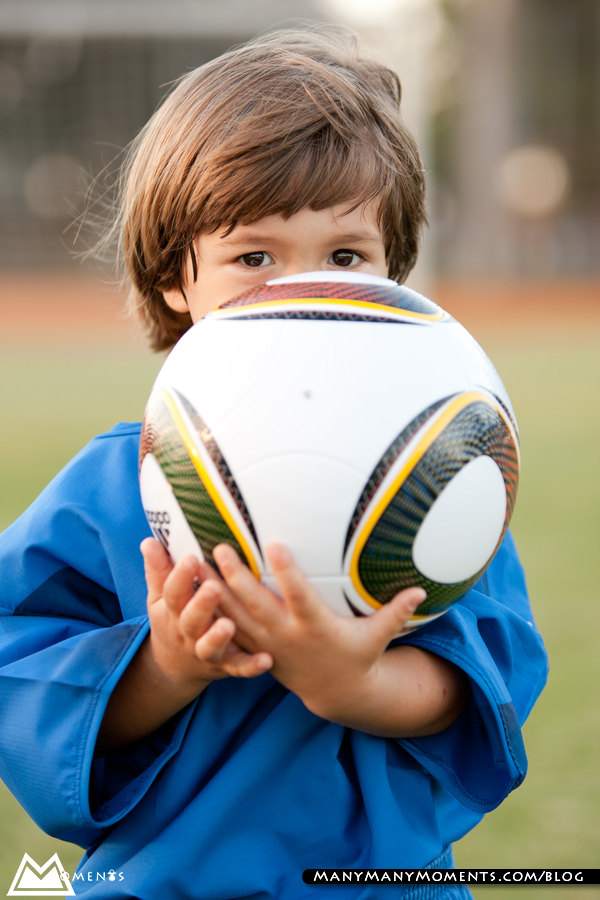 Four years can be a lifetime sometime. Italy '90. We were one of the favorites to go all the way and capture our fourth trophy. Italy had built majestic stadiums, we had prepared a great party for the world to enjoy… the early summer leading up to the cup was a frenetic time for my country… and for myself, aside from the fact that I'd recently lost another grandparent… my maternal Grandfather whom I was also very attached to (those computer skills? all him) things were looking good as I was in the process of graduating High School. Things were looking better on other fronts as well… remember the girl from the previous World Cup? We were dating… I graduated … and Italy started their quest for the Cup. At this point most of my friends had girlfriends, many of these same girlfriends would soon become their wives… I knew exactly where I'd be in 4 years… In Turin, finishing up a degree in Engineering, getting ready to go work for an automobile manufacturer (hopefully designing Formula One engines). The summer was dominated by a song "To be number one" which was the theme song of the cup.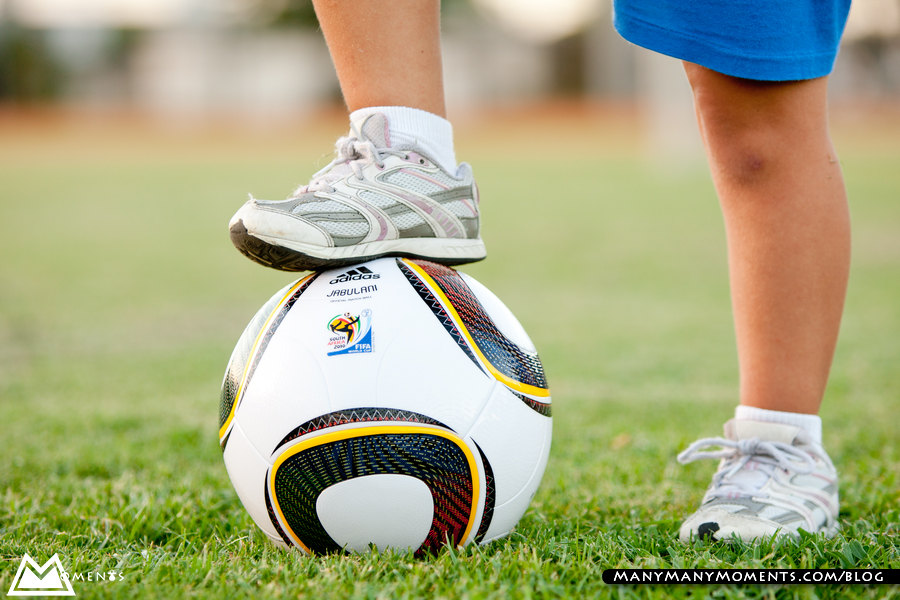 Italy's plans exploded in their face as we were beat by Argentina and had to make do with 3rd place.
I didnt' know this at the time, but my plans wouldn't pan out either.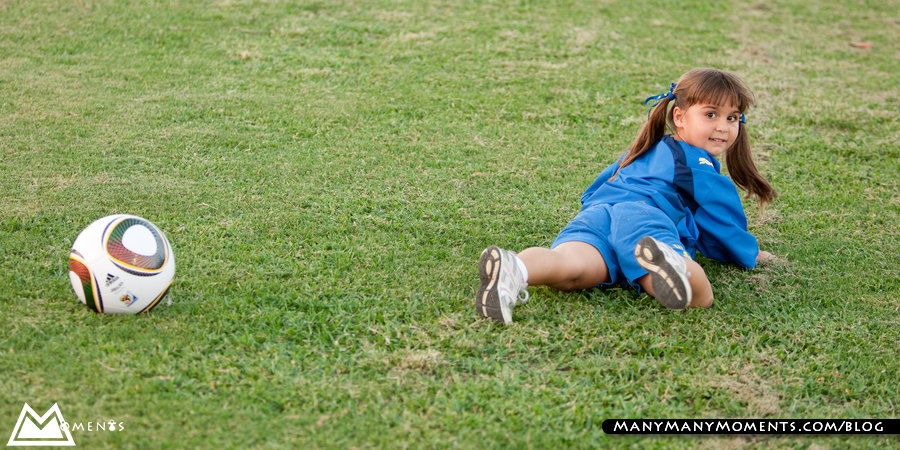 Another four years went by, and so did Turin, and so did L'Aquila and as the World Cup started packing their bags for the United States, I had done the same a year earlier.
Once again I found myself at an all-time low. I was all alone, this time not in a small town away from home, but in a huge city in a gigantic country WAY far away from home. I was alone. I had little sense of direction, I did have one thing that kept me tightly connected: I watched Formula One races, at the same time as my friends back home (unlike the World Cup, this is every year for most of the year, so it was a way to keep in touch and be connected by something) … I had been a fan of Brazilian Ayrton Senna for a decade at this point and was looking forward to the '94 season on the active suspension Williams Renault. I had not missed a single race since at least '88 and I was gonna have a great time. [below: Marco with a very very good looking photographer]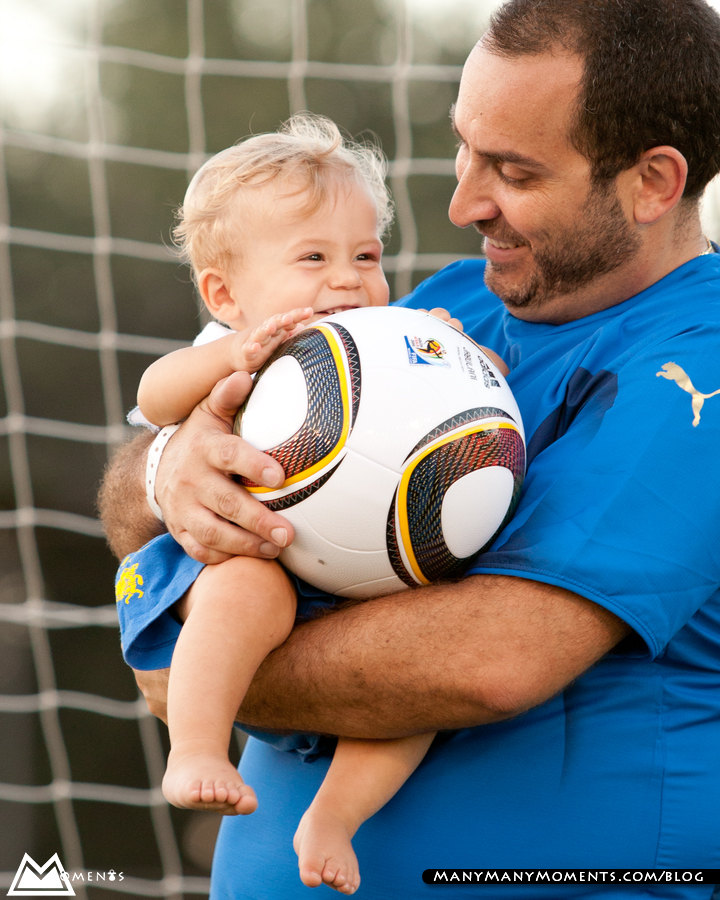 May 1, 1994 – a steering column broke and what was probably the most talented racecar driver of all time died in a tragic accident in Italy. I stopped watching the race as he was airlifted to the hospital and never watched a Formula One race again. It may sound silly.. I didn't know the guy, he wasn't family or anything. But I sat in my apartment for the whole day crying.
A little more than a month later the World Cup started. I bought a cheap "Italy" hat at a sports memorabilia store and began sewing the flags of the teams Italy would face, onto the hat… after Italy had beat them. [below: who knew she had thes moves?]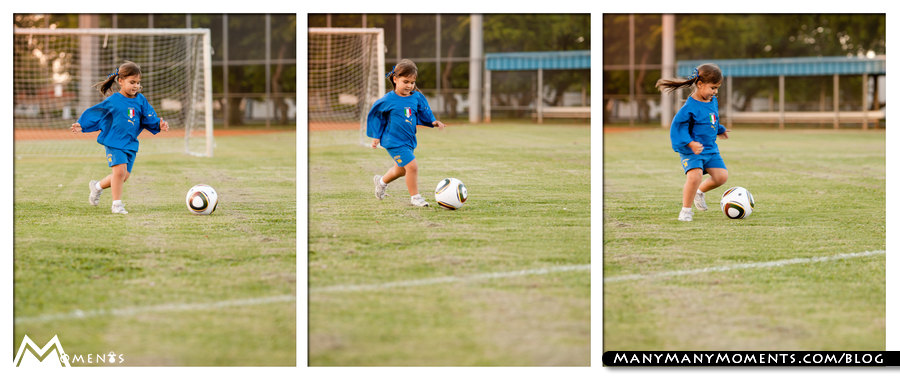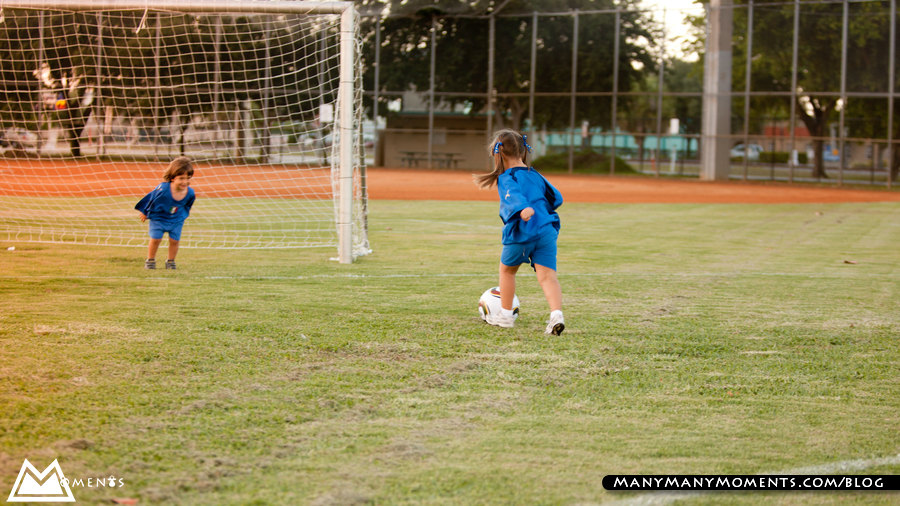 We reached the final. My hat was covered with flags, and in my pocket was the Brazilian flag I planned to sew on the hat as we beat them that afternoon. I went to see the game at a popular Brazilian club with some friends. I was the only one in blue in a sea of yellow (WHAT, WAS, I, THINKING?).
The game ended in a tie… then extra time… then penalty kicks.
Our biggest star, Roberto Baggio walked up to the ball, kicked…
And Brazil proceeded to win the World Cup.
I didn't cry as much as I thought I would. I felt a deaf pain. A lot of it was that I was actually happy for the Brazilians. Senna had been a national Icon… a Babe Ruth of sorts if you will. I was interviewed by a reporter (I ended up being quoted on the front page of the newspaper) and I told her frankly that with the loss they had suffered a couple of months prior, I was glad that if someone was going to beat us, it be them.
I listened to "to be number one" on the way home… and I couldn't even make out the words.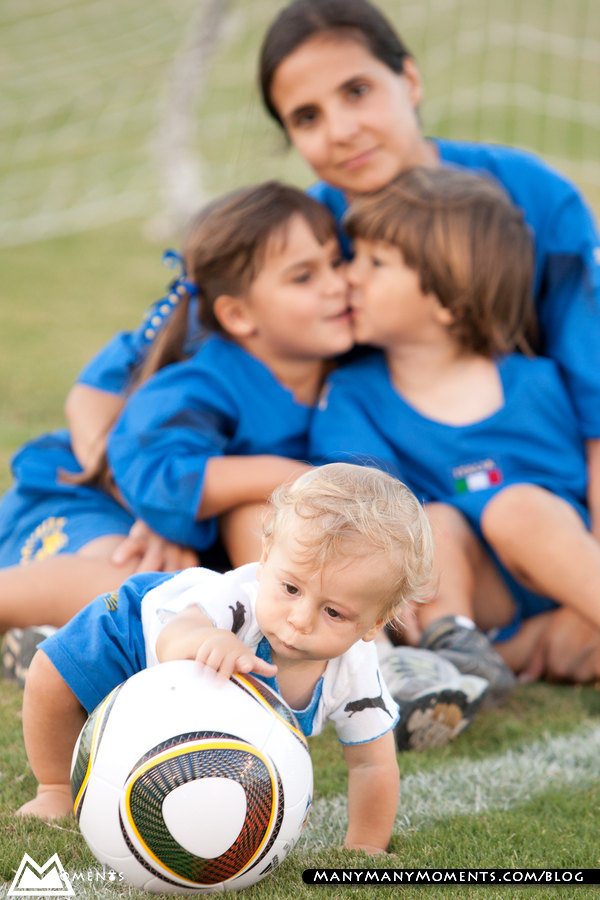 France'98 was another bad year for the World Cup. We were knocked out in our first game in the round of 16 by France (who eventually won the tournament on home soil). I remember exactly where I was watching the game. I was at my maternal grandmother's home. I was there quite a bit at this point… she had Alzheimer's and was getting worse… and my mother would be there to take care of her. She woulnd't be around for the following World Cup.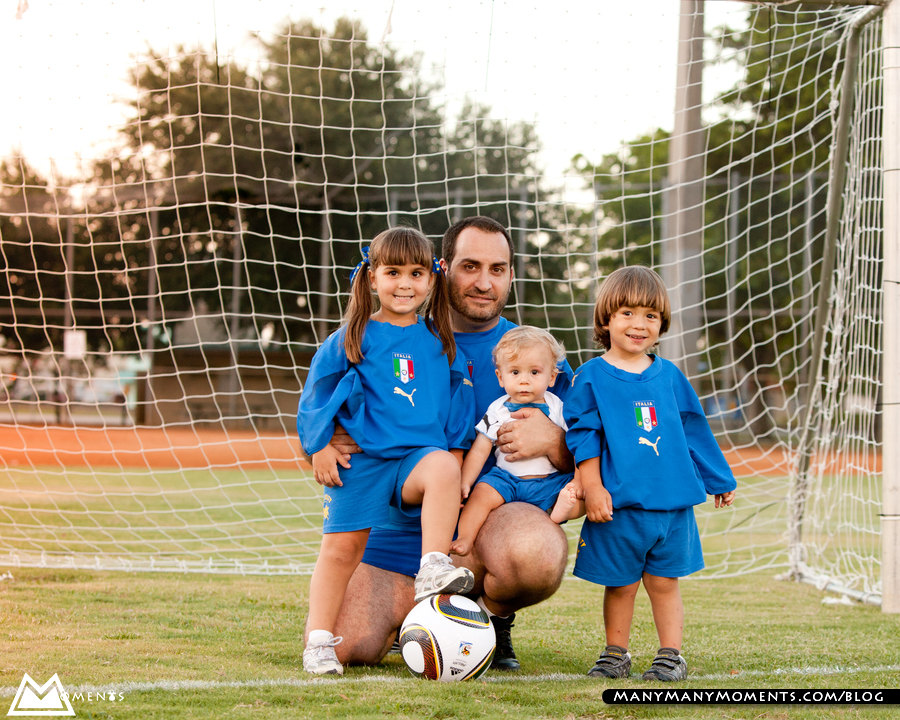 Korea/Japan '02 Things were looking good at my job. At this point I had realized that this was no longer just a job but a career. I started getting worried that I was "growing up" … inside I was still the 10 year old boy who would run to the bars to watch the soccer games… but all around friends were getting married, some were having children… things were changing fast.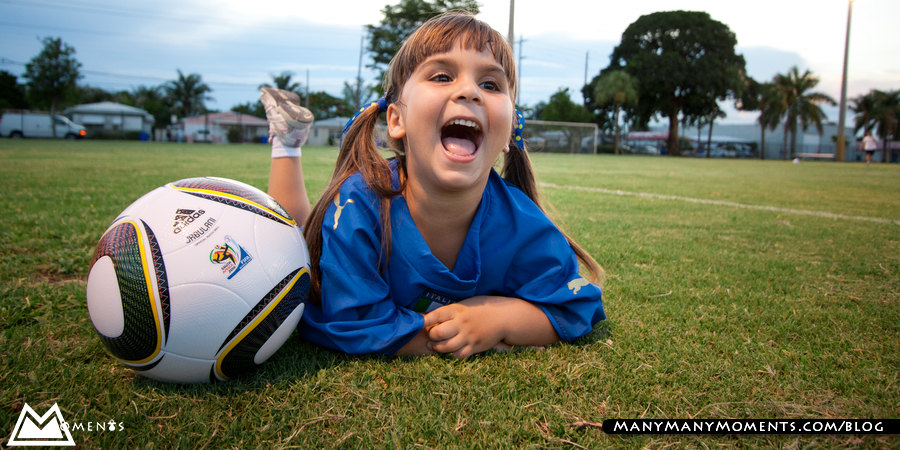 Once again we were slaughtered right out of the Round of 16. I don't even want to mention who we lost to… it's too painful LOL.
Now… remember when I said that 4 years can be a lifetime?
I wasn't kidding.
As the 2006 World Cup got under way my life had completely changed. I didn't watch the initial less important games by myself… I watched them with my daughter and my wife. Yeah… daughter and wife. Imagine that! [below: Francesca in '06]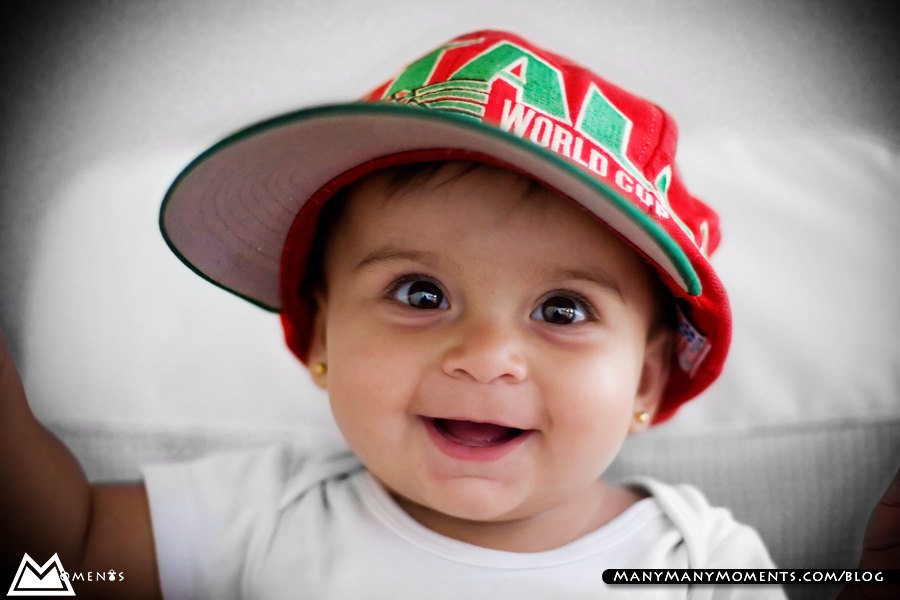 It was a wonderful time. I was a new dad, a new husband… I had no clue how to be good at either, but I was trying and having a good time. The odds weren't in my favor but hey time flies when you're having fun.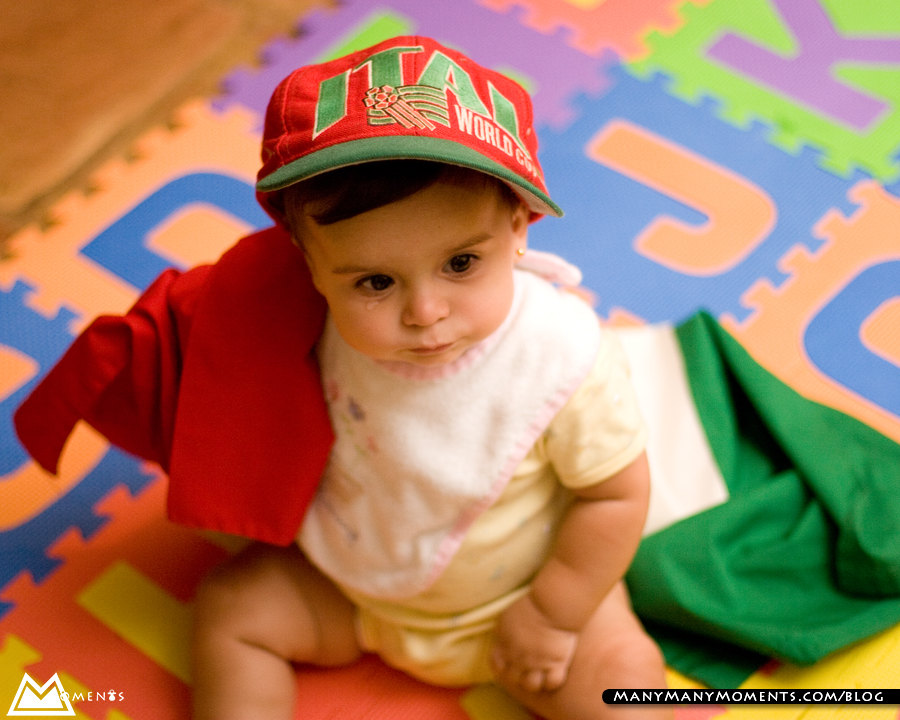 It was SO MUCH FUN to watch the games with the little one… in the photo above you can see how she started crying…. oops my fault… someone nearly scored against us I cried out some imprecation … she got scared and sterted crying … real tears 🙁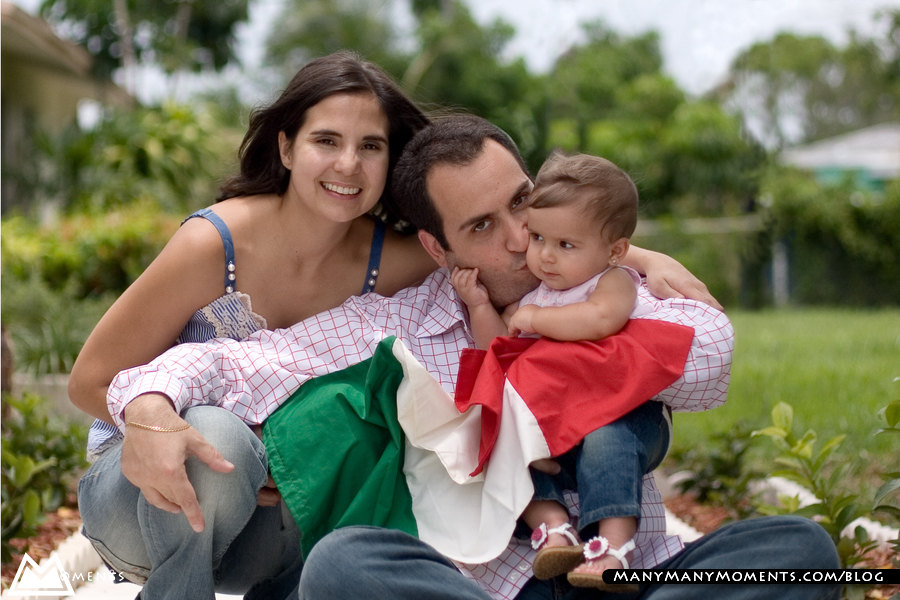 We went ALL the way. Beat everyone they put in our tracks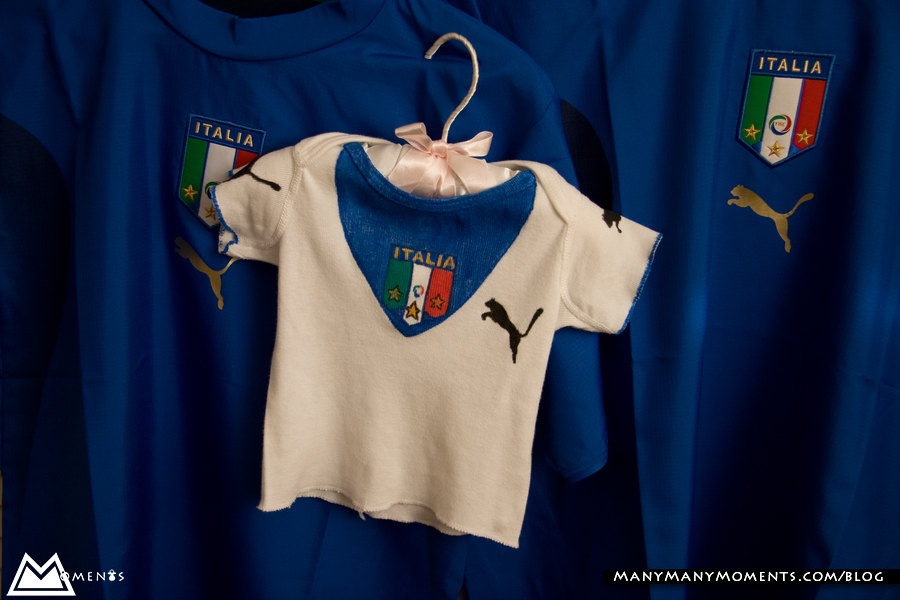 It wasn't always pretty (the shirt I hand-designed for my little one was) but we got the job done.
At the end of the day we stood tall on top of the world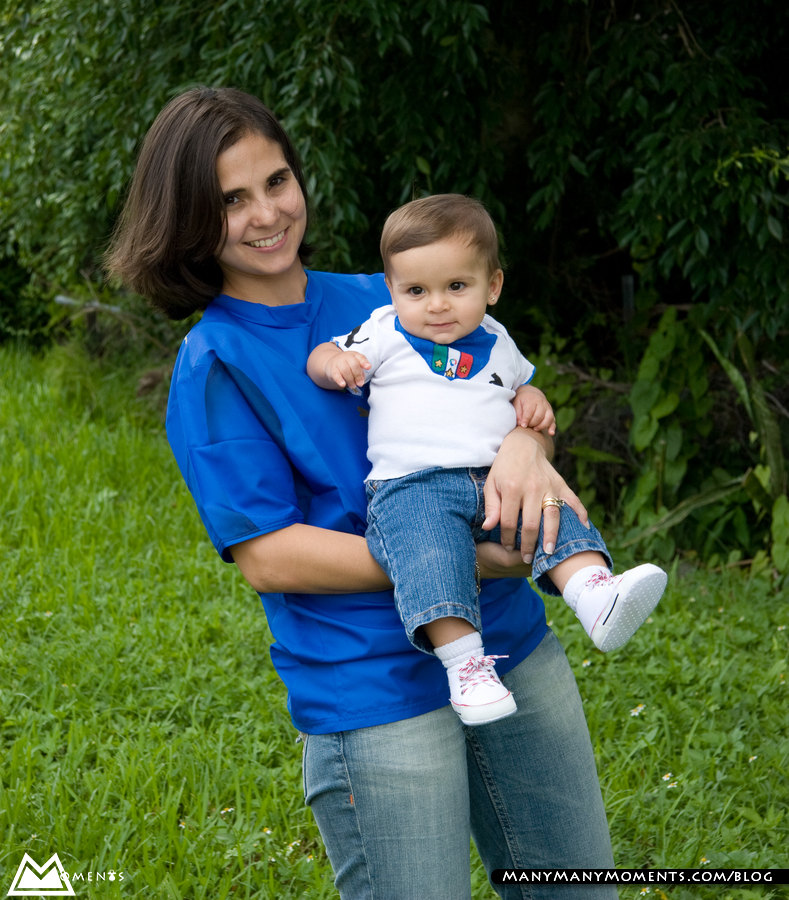 I had been 10 years old the last time I saw my country pull this off… and as I listened to "to be number one" I was finally able to again cry tears of joy as I held up my baby daughter, who this year is asking me all sorts of questions (why don't they let the people in yellow touch the ball LOL) and undoubtedly in 4 years will be rooting for some other team just to spite me.
Oh one more thing… tomorrow morning is USA-SLOVENIA…. Go USA!!!!